Iedereen zou zich van tijd tot tijd moeten buigen over ethische vragen. Komt wat ik doe ten goede van andere mensen? Is mijn werk schadelijk? Het boek van designer Cennyd Bowles is daarbij een goede basis. Het bekijkt vanuit een heel breed perspectief allerlei mogelijke ethische vragen die moderne techniek oproept.
Het is een goed gestructureerd boek. Bowles benoemt de drie belangrijkste filosofische ethische denkrichtingen en gebruikt deze als een lens om naar ethische kwesties te kijken. Hij zet een deontologische bril op ("hoe zou men zich moeten gedragen"), de utilitaristische ("hoe bereiken we het grootste geluk voor de grootste groep mensen?") en de bril van de deugdethiek ("hoe te leven, in termen van deugd, doel, geluk?"). In 9 hoofdstukken kijkt hij door deze brillen om zich heen.
Vragen, geen antwoorden
Dit boek is geen checklist voor hoe juist te leven. Daarom is dit een nuttig boek. Want ethisch handelen en denken is iets wat je alleen in de praktijk kunt leren en doen.
Hij richt zich tot 'technologists'. Dat zijn alle mensen die in de IT werken zoals programmeurs en ontwerpers. Maar het boek is ook nuttig voor bestuurders en politici.
Deontologie: Asimov:
A robot may not injure a human being or, through inaction, allow a human being to come to harm.
A robot must obey the orders given it by human beings except where such orders would conflict with the First Law.
A robot must protect its own existence as long as such protection does not conflict with the First or Second Laws.
"While deontologists focus on duty, and utilitarians look only at consequences, virtue ethicists are more concerned by overall moral character"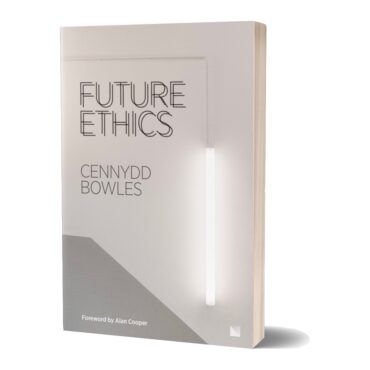 Cennyd Bowles: Future Ethics
september 2018
230 pagina's
ISBN: 978-1-9996019-1-1
1 – Trouble in Paradise
Instrumentalism, determinism, and mediation · Morals or ethics? · The myth of neutrality · Barriers to ethics.
probleem? Techniek is de oplossing voor alles
2 – Do No Harm?
Unintended consequences · Externalities · Algorithmic bias · Source of bias · Moral distribution · Moral relativism · The technocracy trap · Defining fairness · Mitigating bias · Moral imagination · Futuring · Design as provocation · Utopias and dystopias · User dissent and crisis · Redefining the stakeholder · A Hippocratic Oath? · Ethical infrastructure and diversity.
3 – Persuasive Mechanisms
Dark patterns · Attention and addiction · Ethical experimentation · Persuasion and power · Political persuasion · Automated persuasion · Evidence collapse · Justifying persuasion: folk theories · Persuasive theories · The role of intent · Introducing deontology · Deontology applied · The veil of ignorance · Better persuasion · Regulation and opt-out.
4 – The Data Deluge
Raw data is an oxymoron · Resigned to insecurity · The value exchange in practice · Redefining public and private · Deidentification and reidentification · Seamlessness and trust · Data regulation · Introducing utilitarianism · Scientific morality · Utilitarianism or deontology? · A fairer data exchange · Self-ownership and pocket AI · Portability and differential privacy · The nuclear no-data option · Privacy as strategy · Empowering the public.
privacy by design approach, created by Ann Cavoukian
5 – Seeing Through New Eyes
Computer vision · Listening machines · Talking with machines · The datafied body · The hypermap · Neo-physiognomy · 'If I don't, someone else will' · The deadly seams · Is 'better' good enough? · The trolley problem is a red herring · Coexistence and companion species · Umwelt · The social contract · Explainable algorithms · Counterfactuals · Virtue ethics · Value-sensitive design
"The hypermap itself is, of course, never fully achievable; here will allways be blind spots. But as a future object even partly realised, the hypermap poses profound ethical questions."
6 – You Have Twenty Seconds To Comply
Moderation and free speech · What's yours is ours · Security or liberty? · The ethics of encryption · Repurposeable surveillance · The party line · Post-privacy · Autonomous war · Moral disobedience · The price of disobedience.
7 – Software Is Heating The World
Minimum viable icecaps · The digital drain · Gestell · Conservation for technologists · Anticipating scarcity · Radical reorientation · Akrasia and ethical imperfection.
8 – No Cash, No Jobs, No Hope?
Is it different this time? · The future of work · Countering inequality · Ethics or politics? · The ethics of capitalism · Searching for meaning · Complex consciousness · Personhood · The dangers of anthropomorphism · How should we treat machines? · How should machines treat us? · Superintelligence and doomsdays.
9 – A New Tech Philosophy
Beware the business case · Facilitation, not judgment · Other ethical dead ends · Ethics in leadership · Time for specialists? · Being the change.
'designated dissenter', 'provocatypes'. DON'T build a business case for ethics: relying solely on a business case for ethics is a sure route to failure. A business case for ethics should always be secondary to arguments grounded in logic, rhetoric, and even emotion.
An effective ethicist should spend time on tangible change, not meetings and abstractions. I recommend specialistst should be senior individual contributors – product ethicists, design ethicists – rather than managers or executives.
Any individual can make an ethical difference in any organisation.
Er zijn geen makkelijke antwoorden op lastige vragen. Onthoud: "users are just a subset of your potential stakeholders. Try also to hear from people who aren't users but could be subject to the externalities of your decisions."
"Since technological bias often mirrors human bias, these will often be people from underrepresented or vulnerable groups."
An individual can spark an ethical movement, but it takes a group to sustain it.